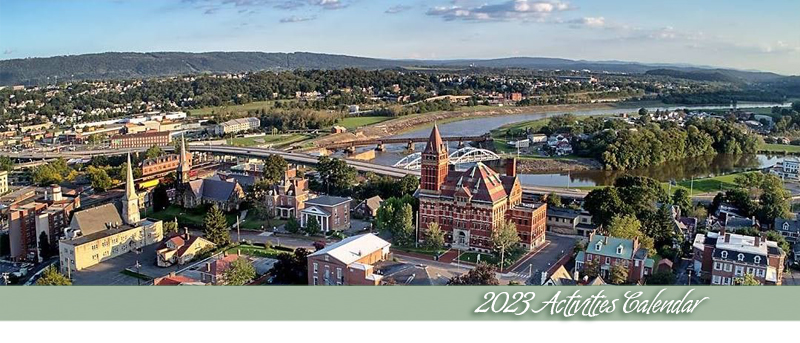 2023 ACHS Activities Calendar
The future of the Allegany County Historical Society is about innovation at every level of our mission. After more than two years of public health limitations to our programming, we worked with great success to bring that energy back during 2022. In 2023, our Board of Trustees is committed to turn an important corner toward greater value in all we do.
One thing we learned for sure last year – bringing history alive is equally as much fun behind the scenes as it is for the folks who attend our programs. Everybody wins!
Become A Member And Take Advantage Of The Benefits Below
• Discounts All 2023 Ticketed Events
• Special Free 2023 Member/Volunteer Events
• Receive Society Newsletters and Emails
• Free Family Tour of the Gordon Roberts House
• Free Family Tour of the F. Brooke Whiting House
• Free Family Tours of the Union Grove Schoolhouse

2023 Fourth Friday Tea Series
What's better than something old that's new again? Gordon Roberts House ballroom tea events have been our most beloved programming for decades and we're excited to bring them back.
Current planned dates and topics (subject to change based on availability) include:
• April 28th – Mystery Books Set In The Gatsby Era –
• May 26th- Local Real Estate and Industrial Growth 1790 – 1928 
• June 23rd – Local Wedding Traditions –
• July 28th – The Life of Martha Washington – 
• Aug 25th – Colonial Women's Textiles and Styles –

CLICK HERE FOR TICKETS

• Oct 27th – Victorian Oddities
Individual tickets will go on sale one month before each tea.
• Individual Event ACHS Member Tickets – $ 25
• Individual Event Non-Member Tickets – $ 35

ACHS Gala Event Series
Last year, your Historical Society presented a successful set of well attended and well liked program-supporting events. We are proud to present them moving forward as annual community events that support the work of our society!
The Whiting House Gatsby Gala
Saturday, April 29, 2023
This charming home was never more exciting than when it was near the end of Prohibition. So dress for the 1920s and double your fun. Only the best of everything on this night for the Whitings, the Fitzgeralds, the Gatsbys and our gala attendees. Watch for opening of event ticket sales, space is limited.
• Individual ACHS Member Ticket – $ 95
• Individual Non-Member Ticket – $105
• Couples ACHS Member Ticket – $170
• Couples Non-Member Ticket – $195
General Washington's Collation at Gordon-Roberts
Friday, July 21st
This Heritage Days Pre-Event was the social summer surprise of 2022. Period theme hors d'oeuvres, an open bar, classical music, and renowned historical actor John Koopman III as General George Washington.
• Individual ACHS Member Ticket – $ 95
• Individual Non-Member Ticket – $ 105
• Couples ACHS Member Ticket – $ 170
• Couples Non-Member Ticket – $ 195
The Megan Jean "Dem Bones" Party at Gordon-Roberts
October 24, 25, 26, or 27, based on performer schedules
Who knew the coolest Victorian Steampunk Halloween celebration would be at the Historical Society headquarters! Spooky decorations, the unique talents of Megan Jean and the KFB, tasty Fall food and an Open Bar featuring our bespoke ACHS Hamilton's Ire Rye Whiskey!
• Individual ACHS Member Ticket – $ 50
• Individual Non-Member Ticket – $ 65
• Couples ACHS Member Ticket – $ 80
• Couples Non-Member Ticket – $ 95

Hands On History Discovery Series
With funding support from the Canal Place Authority Maryland Historical Trust Mini-Grant Program, we are pleased to announce the return of our popular Hands On History programs. At publication time, the following programs have been planned with tentative dates. Others will be added throughout the year. There is no charge for attendance. Space is limited. Reservations are recommended and will open two weeks before each program.
• February 11th – Asian Art in the Whiting House Museum
• March 25th – Table Setting Etiquette at Gordon Roberts House – Click here to purchase tickets.
• May 20th – Historic Building Materials – Morning and Afternoon sites with optional lunch
This series will grow and grow throughout the year as we identify topics and recruit experts to share them!

Heritage Days/Wills Creek Muster
September 8,9 and 10, 2023
Since accepting responsibility for staging Cumberland's Annual Signature Heritage Event prior to the 2021 festival, a community committee working under our Board of Trustees has tripled the budget and doubled the attendance of this beloved weekend. Rebuilding Heritage Days into the cornerstone of our Five-Year Plan for Growth and Sustainable Service, we instituted three key changes.
Creating the Wills Creek Muster – A new presentation of Colonial and Revolutionary living history is now an integral part of the Heritage Days. A year-round effort supports funding, vetting and recruiting 18th century reenactors, sutlers and historians – putting accurate heritage education back in the forefront of the weekend.
Reenergizing the Prospect Square Street Fair – Funnel cakes are back! Plus high quality craft vendors, non-profit education and community service presenters, more children's activities, more unique food vendors and curated music performance. In 2022, nearly 70 booths were used. New experiences are being added year-round in this fun family atmosphere.
Leveraging Social Media Promotion – Under ACHS, more than half a million social media users were reached by Heritage Days and Wills Creek Muster promotions. These advertisements are targeted at consumers with interests in American History, Outdoor Recreation and Weekend Getaways within 150 miles of Allegany County.
Get involved, and explore how to become a historical presenter, vendor or volunteer by visiting www.heritagedaysfestival.com.

Public And Private House Tours
All of our Allegany County Historical Society facilities are available for guided tours, whether by Open House hours that are set and published at our website or by request for private tours through our staff email at [email protected]
• Free for ACHS members with advanced reservations
• Costs for private tours are available on request. Scheduled tours and prices are current at www.alleganycountyhistory.org

Private Event Rental Venues
The Allegany County Historical Society has hosted many gatherings over the year in our facilities that created lasting wonderful memories for the participants. We are newly energized and freshly equipped to support Special Events and any of our four venues.
ACHS members can use our facilities at significant rental fee savings!
Gordon-Roberts House – Recent improvements to special event capabilities in our elegant 1867 headquarters at 218 Washington Street include a renovated catering kitchen, upgraded music and AV capabilities and the purchase of another facility's inventory of linens, tableware and cocktail table. We are proud of the wonderful feedback we've received. Gordon-Roberts was the talk of the town for our beautifully decorated and tastefully catered Christmas season private events!
Carriage House and Victorian Garden – We've spruced up our original Carriage House as Josiah's Tavern and can support your indoor/outdoor receptions and parties with a variety of clean functional canopies, tents, table chairs and a new gas grill among the services available to make your event special.
F. Brooke Whiting House – Up the hill at 632 Washington Street, the 1911 bungalow home of one of Cumberland's leading families remains configured and decorated exactly as it was when the Whiting Collections and home were gifted to the Historical Society over two decades ago. It is an amazing setting for small meetings, social luncheons or private dinners.
The Union Grove One-Room School House – Looking to host a unique children's event for your organization or family gathering? Our Mason Road facility, near the 1812 Brewery and the Union Grove Campground , is on the National Register of Historic Places and is Allegany County's only intact turn of the century one room schoolhouse. Plenty of lawn space and access to Evitts Creek can provide you with plenty of space for outdoor games or fun time.
Please feel free to email our staff at [email protected] to start a conversation about the unique private events possible at our venues.