2023 Hands-On History Series Table Setting Etiquette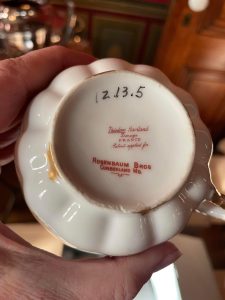 Set for Saturday, March 25th at 4 PM in our Gordon Roberts House ball room, this FREE EVENT is made possible in part by a grant from the Maryland Historical Trust and the Passages of the Western Potomac Heritage Area.
Just like last month's event at Whiting House, attendance is limited to the first 25 attendees who make reservations through our Eventbrite link.
HIGHLIGHTS:
A presentation over a tasty sit down dinner that discusses proper traditional etiquette for formal dining
A chance to see examples of place settings that have been donated to the Historical Society over the years
Explore the local connection to architect Bruce Price and his daughter, American manners maven Emily Post
Although attendance at this event is space limited, your Historical Society will be offering free tours during Allegany County Museum Week, June 9-18 and our dining ware collections can be enjoyed at that time as well.